I arrived Friday night. My flight left an hour late but arrived only 30 mins late. After a quick stop at Wal-Mart to replace confiscated toiletries, I was in my room on site around 10:30 pm.
Saturday morning I was up around 5:45 am then we fed the horses around 7 am. The squires began arriving around 7:30 (some earlier) then we walked the horses from their paddock across the parking lot to their stalls backstage. I was told that I would ride in the 2, 4, and 6 pm shows and that I would be on Otto. My role was merely to keep a horse from being alone so I just rode out with the Marshall of the List here and just shadowed him.
I got to watch the first show from the amazing dais here. It was great. Then the fun began. Otto as always was a kick, sometimes literally, the entire weekend. I did manage to dodge all of his blows and he never even got to bite me. Oh, but he tried. On the field he was great. Once he realized how easy his day would be he really began to enjoy it. Until he would get bored just standing around.
The shows went fine Saturday and Sunday and I was on Otto both days. The squires here do a really great job and everyone just welcomed me with open arms so the shows were very easy.
Halfway through the day on Saturday Roy handed me a gorget that he had been worling on. His stall was next to mine so I watched him make it from start to finish. He said that was mine for riding this weekend when originally I was just going to be "hanging out." Here it is..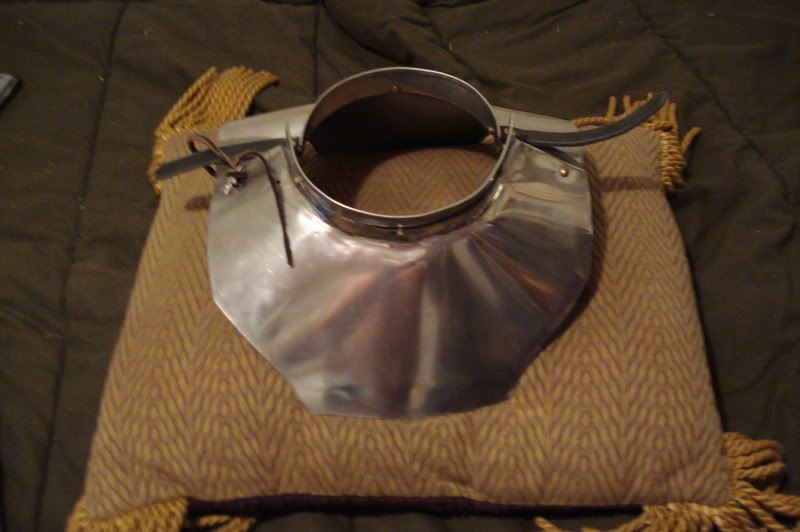 So now I own my first piece of armour. :)
The excitement began on Monday. I got to ride Zeuk for the first two shows and I was thrilled. Roy said Ripper would ride Otto and he was going to ride Hobart. First show was thrilling.
The other marshall and I would ride out, each ride up one side of the arena, then turn into the list coming down to the first stanchion (the third from the dais) where we sat while the other riders would enter two at at time at a trot, pulling away from us at the center stanchion.
The English knights ride out (Ripper on Otto and Jon on Chance) and everything is fine. They pull out to the left and everything is fine. Out comes the Holy Roman Empire (Roy on Hobart and Paul on Malachi). We look up and Hobart is hauling ass. Malachi is refusing to lose to him so its a horse race. Roy is charging right down the right side of the list (on collision course with me) and Paul on the left (a collision course with Larry, their marshall). I see Roy throw down his banner and pull back on the reins. I think then how unfortunate it is that Hobart has been asserting himself over Zeuk lately. Zeuk and I hold our ground, as does Larry on Caeser.
Roy and Paul peel out in opposite directions right in front of us.
One small hiccup during the games, when Paul's girth strap loosens (Malachi obviously exhaled all of his bloating) and his saddle slid over. Then during the joust, on the first pass, Hobart ran full out at the gates under the dais. He made a sharp turn at the end and launched Roy into the locked gates, knocking them open.
The rest of the day was not so bad. I rode Zeuk again at 2 then Otto for the last two shows. The last show was a little off, because Zeuk started running out of the list again and before long Hobart had decided enough was enough and he charged over to where we were all around the mounting block. Very interesting.
Overall, this weekend was just amazing! I had a blast.
Current Location: Home
Current Mood:
accomplished